First 4 Figures shows off another remarkable piece.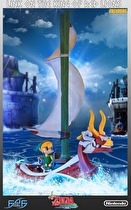 A Link on The King of Red Lions statue is now available for pre-order from First 4 Figures. The statue, which is 25 inches tall, comes in both a Regular edition and an Exclusive version that can only be purchased from the manufacturer's website.
The Exclusive version, which costs $479.99, has a light up base so that the water looks like it flows a bit around the King of Red Lions. The Standard version costs $449.99 and does not have the light up base. The Exclusive version can be bought here, and the standard version can be snagged here.
Customers looking for discounts can use the coupon code KORLX25 for $25 off the exclusive version, and the code KORLR20 for $20 off the standard version. Also those who order within the first 12 hours will have a special First 4 Figures Zero Hour sticker placed on the box and it will come with an autographed card by one of the designers at First 4 Figures.
These figures are limited edition and the edition size will be set on August 30. This statue is scheduled to ship out to customers in Q2 2017.