The opening salvo includes three of the system's big guns.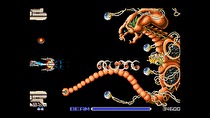 North America's Virtual Console is adding another system back from the Wii.
TurboGrafx-16 titles, first revealed in ESRB ratings a few months ago, will come to the Wii U's Virtual Console tomorrow with the releases of Bonk's Adventure, R-Type and New Adventure Island. Much like the Wii pricing, the games will employ variable pricing as Bonk and Adventure Island will be $5.99 US while R-Type will be $7.99 US / $11.29 Canadian according to Nintendo's games list.
Although all three titles were on the Wii's Virtual Console, the status of the upgrade program as with NES and Super Nintendo titles has yet to be announced.