The most expensive reward in Gold? New Super Luigi U.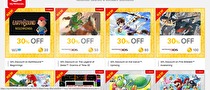 The My Nintendo rewards refresh has brought along a few changes as well as some additional offers for those celebrating summer birthdays.
The new rewards turned over on July 1 and include discounts on Earthbound Beginnings, Fire Emblem Awakening, Kid Icarus Uprising and Mario Kart 8 for gold coins (20 - 140), and Platinum rewards including discounts on Super Mario 3D World and Wii Party U. For those needing to build Platinum coins slowly, a recent Miitomo updated has added a "Question of the Day" worth 2 Platinum for answering.
In addition, the first birthday discounts have begun to appear in North America, offering 30% off a wide selection of games during the month. The list, which may change depending on games already owned, includes:
Wii U: Xenoblade Chronicles X, Yoshi's Woolly World, Super Mario Maker, Splatoon, Mario Party 10, Captain Toad: Treasure Tracker
3DS: Mario and Luigi Paper Jam, Pokémon Super Mystery Dungeon, Super Smash Bros, Kirby Triple Deluxe, New Super Mario Bros 2, Mario Kart 7
Thanks to Dan (@fielderschoice9) for supplying his list of discount titles