The physical pack is published by some folks who know a bit about platforming.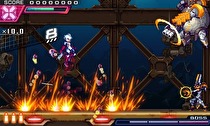 Inti Creates will be dropping a sequel to an eShop hit at the end of September, and a boxed copy will come along for the ride.
At the company's AnimeExpo panel, Inti announced that Azure Striker Gunvolt 2 would release in North America on September 30 in both digital and a physical format. The eShop release will be US$14.99, while a combo package of the first two ASG titles will release the same day for US$29.99.
The special edition physical release will be published by Yacht Club Games, building off their experience with Shovel Knight from last year.