The great RPG drought of 2016 lasted about, oh, six days?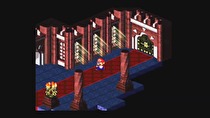 Giant swords will rain down on the Wii U Virtual Console in North America with the release of Super Mario RPG: Legend of the Seven Stars.
The 1996 Nintendo/Squaresoft collaboration will launch for $7.99 (US/C) with the $1.50 upgrade option available for owners of the game on Wii.