Price cuts are intended to coincide with this.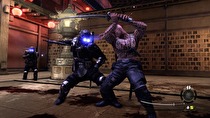 One of the Wii U's most notorious titles will be losing its online services at the end of the year.
An announcement on Nintendo's support website has indicated that the online services for Devil's Third will end on December 28 of this year. The in game "Golden Egg" microtransactions will no longer be available as of noon Eastern time Monday.
Although not mentioned in this morning's download press release, the digital price of the game will be dropped by 50% to $29.99/$42.29. Similar price reductions will be in place for other territories. The online service was only active for 16 months total, with just over a year in North America due to the delayed release, the shortest time of online service for a Nintendo first party title.