The number is hard to nail down.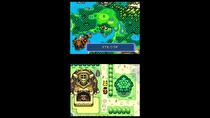 A busy week for RPG fans may be about to get busier.
Nintendo of America has announced that they will be adding Pokémon Mystery Dungeon games to the Virtual Console this week, with the first series of games (Red Rescue Team on Game Boy Advance and Blue Rescue Team on DS) as well as the "third version" of the DS Explorers series, Explorers of Sky.
The announcement also teased "more Pokémon Virtual Console titles later this summer", and the Pokémon Ranger series has released on Wii U Virtual Console in Europe/Australia.