Furthering its Game of the Year win with some nice cosmetic things.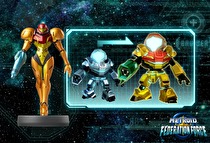 Nintendo of America has detailed how amiibo will work in the next Metroid title.
The information, sent out via the company's Twitter, shows different character skins for the Blast Ball mode, while scanning either of the Samus amiibo (regular or Zero Suit) will unlock skins and other ingame benefits. Details of the nature of the benefits were not provided.
The Next Level production will release in North America on August 19.
Add some bling to your Blast Ball matches in #FederationForce by scanning #amiibo to add a paint job to your Mech. pic.twitter.com/3ay1Pb1q46

— Nintendo of America (@NintendoAmerica) June 21, 2016