It'd fit right in on the Sega Saturn.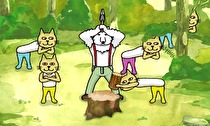 Rhythm Heaven Megamix received its full North American debut today, and it's available for download right now.
The rhythm collection will be available only on the eShop for $29.99 US / $42.29 Canadian. No European release details are available. A demo will also be available on the eShop.