The 25th anniversary plans include six stages and a movie.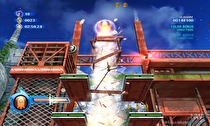 The blue blur is about to smack into the silver screen.
Sonic Team sat down with Famitsu magazine in Japan for this week's issue, during which a new game (platforms to be announced on July 22) and a feature film was also announced. (Translation courtesy SOAH City)
"We at Sonic Team – are developing a completely new game, as well as developing a full movie, actively done by Sony Pictures, and animation on Sonic Boom" (emphasis added)
No additional details, such as a release date, are available.