Refining the googly eye engine requires time.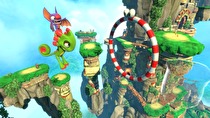 Playtonic Games will need a few more months of prep time before Yooka-Laylee emerges.
The company announced today that the N64-inspired platformer would release in Q1 2017 (January - March) instead of the promised October 2016, citing a desire to add some more polish time to the schedule.
The announcement was accompanied by the release of the game's E3 trailer, which you can see below: