The sequel to the popular indie throwback finally lands on Wii U and 3DS.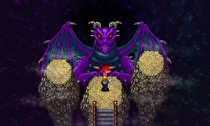 Next week's eShop update will include a big indie RPG sequel.
Dragon Fantasy: The Black Tome of Ice, the second game in the retro-themed RPG series, will launch next week on both Wii U and 3DS for $9.99. The first game in the series launched last summer, and the sequel takes cues from 16-bit RPGs.
Unlike the original, Black Tome of Ice will not be a crossbuy title.