It might be familiar to Record Breakers or those who have experienced Odysseys.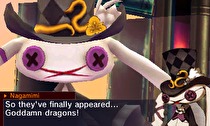 Sega has outlined the plans for add-on content for the upcoming 7th Dragon: Code VFD to add on to the game's already massive size.
A free doll of the killer rabbit Nagamimi will come with the game on launch day (July 12 for North America) along with some paid content for grinding assitance and character recruitment.
July 12: Nagamimi Doll (free), Seed Outbreak! (US$1.49/C$1.99, experience/money map), Gold Rabi Outbreak! ($1.49/$1.99, experience/money)
July 19: Code: Student! ($1.99/$2.49, recruit Samurai from 7th Dragon 2020), Code: Otaku! ($1.99/$2.49, recruit Hacker from 7th Dragon 2020)
July 26: Code: Lucier! ($1.99/$2.49, recruit Lucier from 7th Dragon 2020-II), Allie's Death March ($1.49/$1.99, boss rush mode at max level), To My Beloved Unit 13 ($1.49/$1.99, unlocks post credits, ultimate weapons for all classes and "Blaster Raven" recruitable)