Pray they don't charge a buck a reset in Fire Emblem.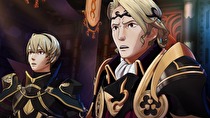 Fire Emblem and Animal Crossing will have Miitomo's upfront cost on mobile when they launch later this year.
In a statement to the Wall Street Journal (subscription or Googling "Nintendo To Make Next Two Mobile Games Free" required) DeNA CEO Isao Moriyasu stated "'Fire Emblem' and 'Animal Crossing' are both free-to-start apps" and a Nintendo spokesperson confirmed the same.
Both Fire Emblem and Animal Crossing mobile are both scheduled to release this fall.