Almost, but not quite, giving it away.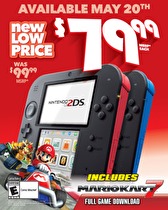 The Nintendo 2DS is receiving another price drop in the US.
Nintendo announced today that the non-clamshell 3DS player will drop to $79.99 effective next Friday (May 20) from $99.99, including versions with Mario Kart 7 preinstalled.
2DS originally launched at $129 in 2013, and was lowered to its previous $99 price last August.