The ability to destroy a planet in a single blow proves insignificant next to the power of a massive loss.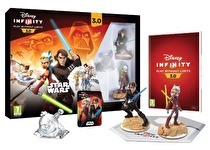 The temporary hiatus for Disney Infinity appears to be permanent.
During a financial call today, Disney announced that they were taking a US$147m charge related to "the discontinuation of our self-published console games business, principally Infinity". The last game in the line, Infinity 3.0, released last September and the company announced intentions to focus on new figures earlier this year rather than a Infinity 4.0.
Disney properties will continue to be published by Electronic Arts (Star Wars: Battlefront for PlayStation 4/Xbox One, two action Star Wars titles for unannounced platforms) and Warner Bros (Lego Star Wars: The Force Awakens).
A promised Rogue One playset has been cancelled, and the final figures to release will be themed around Finding Dory and release next month. Avalanche Studios, who helped with the development of Infinity 3.0, has also been closed putting 200 people out of work.