And much like Pat Boone for some reason, we're going metal.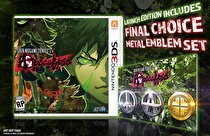 Early and preorder buyers of SMT IV Apocalypse will be getting metal this summer.
Atlus today announced that the first print bonus for the game will be three metallic pins designed around the themes of the game, peace and anarchy. The pins are .75" (1.9cm) in diameter and are finished to a high shine.
Shin Megami Tensei IV Apocalypse is slated to release this summer, though some retailers are using September 20 (the last day of summer) as a placeholder.