And you can't bring anybody in with you.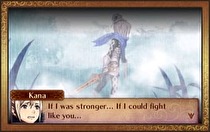 Fire Emblem Fates's first map pack has wound down in North America, but the second pack will launch next week.
"Heirs of Fate" is a six part series of maps that takes a new set of characters on a standalone adventure against a mysterious foe. The packs can be purchased individually or as a part of Map Pack 2, which will also release next Thursday for US$7.99/C$11.29.
The individual stories and their release dates are as follows, all priced individually at $1.99/$2.89 unless noted::
In Endless Dreams: May 5, $0.49/$0.69 (two free items will be available as well)
Realms Collide: May 12
The Changing Tide: May 19
Light's Sacrifice: May 26
Endless Dawn: June 3
Lost In The Waves: June 10