The first and last time we'll say this: I'm really feeling it.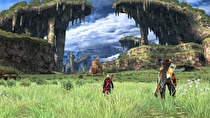 North American Wii U owners will be able to partake in an epic adventure starting with tomorrow's eShop update.
Xenoblade Chronicles will release tomorrow as a download on the Wii U for $19.99 (US)/$24.99 (CDN). The first of the Operation Rainfall trio of late-era Wii RPGs to release on disc will be the last to release in North America digitally.