Prepare to meet The Outsider.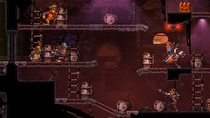 The critically acclaimed SteamWorld Heist is about to expand even more.
>p>To coincide with PAX East, Image and Form have announced the first paid expansion for the title, which they later announced would release this coming Thursday:
"The Outsider" is launching April 28 as DLC for SteamWorld Heist! Full details early next week. Here's a sneak peek: pic.twitter.com/Nt5venshSA

— Image & Form @ PAX (@ImageForm) April 22, 2016
The DLC support will come with a free update that includes an expanded inventory and additional language support.