Will all of Amaterasu's attacks be present?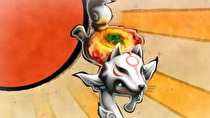 Monster Hunter Generations will let you be anything you want - including a god.
Capcom announced this week that one of the playable Felyne costumes in this summer's celebratory title is Amaterasu, the sun god/wolf from the Okami series. The costume will work both in standard play where the Felyne is an AI companion, or in Prowler mode in which you play as the killer cat.
The method for unlocking the costume has not yet been announced. Monster Hunter Generations releases in North America and Europe this summer.