They come with the ability to play it loud.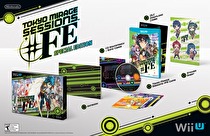 Although there won't be a system bundle, Tokyo Mirage Sessions #FE will have a limited edition for all territories.
The package will be known as a limited edition in North America, but will be known as the "Fortissimo Edition" outside. The package will contain stickers, a soundtrack sampler, an art book, and costume DLC (which will be sold separately for US$1.99 ea).
North America's limited edition will be US$79.99 and be sold at GameStop and Amazon. The Australian edition will be AU$119.95.