The colorful shooter continues the roll of Nindies @ Home titles.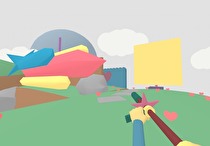 There will be an early eShop update next week, as we'll be stuck on a whole Lovely Planet.
The first person shooter from Tiny Pixel will hit next Tuesday, April 5 for a base price of US$9.99. The Nindies @ Home 15% discount will be available for those who downloaded the demo during E3.
With Lovely Planet's release, the remaining titles in the Nindies @ Home program are forma.8, Soul Axiom and RIVE. RIVE has been slated for September, while forma.8 Wii U development is ongoing and Soul Axiom is available on PC.