First 4 Figures is at it again with another premium Nintendo collectible.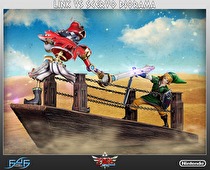 A new diorama based on a memorable battle in The Legend of Zelda: Skyward Sword is now available for pre-order from First 4 Figures. The diorama features Link battling Scervo on the edge of the Sandship.
Those who follow Nintendo collectables might recognize the Link and Scervo figures present in this diorama. That's because they've been available at GameStop for several months now. The figures in the diorama are exactly the same and thus made out of PVC instead of the typical polystone from other pieces from First 4 Figures. The new addition to the collection, the Sandship base, is made of polystone.
Because the Link and Scervo figures have been available for months, and at the time of this writing are still available from GameStop online (here and here), two versions of the diorama are being offered.
The first version comes with both the Link and Scervo figures as well as the Sandship base for a price of $349.99 USD. The other version includes only the Sandship base, for those that already purchased the figures, and costs $199.99 USD. The Sandship base measures 20" x 11" x 8" itself, but with both figures on comes to 20" x 11" x 15". The edition size of the base is limited and will be determined in two weeks. Both versions are scheduled to ship during Q3 2016.
The full version can be pre-ordered here, and the base only model can be pre-ordered here.