No word on seagull transformation.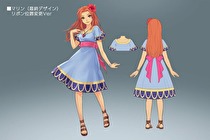 Nintendo has made the first announcement for a DLC character for Hyrule Warriors Legends.
Marin from Link's Awakening will be the included character in the second Link's Awakening pack, due for release this summer. The announcement was made during a Hyrule Warriors Legends panel at the WonderCon gaming convention.
No details have been given as to her capabilities in battle.