A new challenge awaits the brave or obsessed.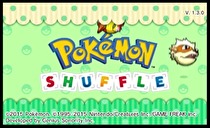 The first major update to Pokémon Shuffle for 3DS was released overnight, with several new tweaks and features.
Version 1.3 includes a new Survival Mode, which uses three hearts (in game plays) and lets you challenge various in game stages with a set number of moves for special rewards. Mission cards, which give rewards for accomplishing certain tasks in the game's existing stages.
New powerups and indicators have also been added to the title, along with bugfixes and updated scoreboards for competitive stages that track the requirements for various prize levels.