A disappointing result for those looking to the future.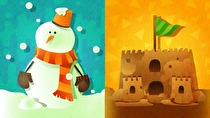 This weekend's Splatfest action saw a streak end and a small amount of civil warring.
North America: Sand Castles 359, Snowmen 341 (47-53, 52-48) At Arowana Mall, North America's first 2.6 Splatfest ended with a narrow win for the soldiers of the summer. The Snowmen appeared to have recency on their side as they took a slight lead in popularity, but the Sand Castle soldiers stormed back to take the battles and claim the nine point victory. This gave Marie a personal record five-Splatfest winning streak.
Europe/Australia: Hoverboards 363, Jet Packs 337 (51-49, 52-48) At Mahi-Mahi Resort, the nightcap of the doubleheader saw Callie break through for her side's first victory since late January. A narrow victory for the Hoverboard side - perhaps encouraged by them actually existing - was followed up by a solid win in the battle portion to leave no doubt as to the final outcome.
With the split, Callie is now 5-5 on the year following a 17-9 record in 2015.