Plus an announcement of an anniversary convention.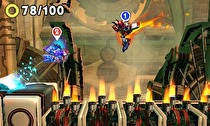 Sonic's first 25th anniversary game will be hitting before the end of September.
At a celebration panel at the South by Southwest music/tech festival in Austin, Sega confirmed that the 3DS sequel will release on September 27 in North America. It was originally slated for a Q4 2015 release before being delayed into the anniversary year.
During the same conference, which ignored such series highlights as Sonic 2006, a fan celebration was announced to take place in San Diego on July 22. It is expected that a new Sonic game for consoles will be announced at that event, scheduled to coincide with San Diego ComicCon.