Players felt that empathy crossed the line into scolding.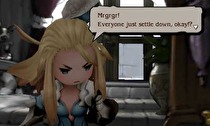 Changes to the ending of sidequests in the European version of Bravely Second were made by SquareEnix and Silicon Studio due to fan feedback.
Originally, the endings to sidequests in the Japanese version would cause what Japanese players felt was "undue regret". In a statement to NintendoLife, Nintendo explained the decision as a step to improve the game experience: "...each side quest would end with the team lamenting the decision they made, regardless of the player's decision. This was intended to help players empathise with the characters' situation, but overwhelming feedback from players indicated they felt an unsatisfying disconnect between their intentions and the characters' reaction."
It is not known if the changes will be kept for the North American version of the title at this time.