Developer cites strength of Wii U as "party platform"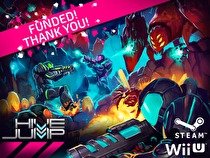 Hive Jump is confirmed for amiibo support, but its multiplayer will be a party event.
The indie game, which is coming to both PC and Wii U, will have online and local play on the PC but only local play on Wii U. In an interview on the Fragoments of Silicon podcast, Matt Raither described the reason as follows: "That's something where we felt the platform certainly is kind of a party platform. We love playing games on Wii U in kind of party mode. So we don't have online in the plans for Wii U, but it will be for PC."
The game will feature the GamePad functioning as an always-on minimap for the action shooter, plus possible off-TV play and confirmed amiibo support. Hive Jump will release on Wii U later this year.