Tragic circumstances take the life of a longtime Pokemon designer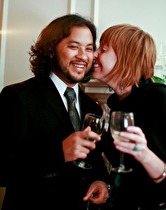 A windstorm last week in the Pacific Northwest has taken a young life.
Eric Medalle, a creative director at The Pokémon Company International, was killed in the Sunday storm when a 60+ mile per hour wind gust caused a Douglas fir tree to snap and fall on his vehicle in Seattle's Seward Park. He was traveling with his young daughter, who suffered minor injuries and was pulled from the vehicle by an unidentified woman.
During his tenure at The Pokémon Company, Medalle was a graphic designer/design director for all mainline Pokémon games between Heart Gold/Soul Silver and Omega Ruby/Alpha Sapphire, plus the localized versions of the last two Pokémon Ranger titles and Pokémon Conquest. He is survived by his wife and two young daughters.