It's cards plus horse racing. It makes sense in context!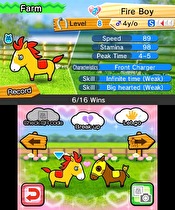 One of GameFreak's previously Japanese only titles will make its way west this spring.
The title called "Solatiba" in Japan will release as Pocket Card Jockey, a 3DS eShop title. The game combines the disparate arts of solitaire and thoroughbred horse racing as you use the cards to create champion racers and studs.