Capcom cops to an inadvertent doubled price on the Blue Bomber's early hits.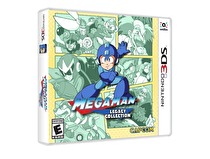 UPDATE 8:28pm Eastern The eShop update appears to have gone through as of roughly 8pm Eastern. The price is confirmed at $14.99 US and $18.99 Canadian. Original story follows.
Capcom has advised users not to download the Mega Man Legacy Collection on 3DS as the eShop version is showing a price error.
It appears the title is showing at the price of the standard retail edition - US$29.99 or C$39.99, rather than the $14.99 price the colletion has for digital copies on PlayStation 4, Xbox One and PC.
Mega Man Legacy Collection on the 3DS eShop should be $14.99. Please hold off on downloading until the pricing is fixed shortly!

— Capcom-Unity (@Capcom_Unity) February 23, 2016
Neal's review of the collection yesterday indicated that there may be graphical glitches with the eShop version as well.