And no, Jibanyan is not one of the rumor cats.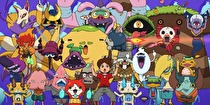 Europe may be getting a repreive from the RPG swarm, but it will be a brief respite.
The Level 5 production will launch in Europe on 29 April, about six months after the Australian/North American launches. The localization will be kept largely the same, such as the main town being known as Springdale.
Unconfirmed numbers for the North American version have it selling approximately 200k units in North American retail through the end of last year, while the franchise has sold about 10 million units to date on the back of massive sales in Japan.