All the toy destroying action, none of the microtransactions.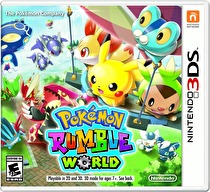 Pokémon's 20th anniversary celebration will carry into April in North America.
A retail version of April 2015 free-to-start release Pokémon Rumble World will release in North America on April 29 for $29.99 US. This rollup release has been out in Japan since December and Europe/Australia for a few weeks.
Rumble World featured a hard limit on microtransactions that gave unlimited amounts of jewels - the game's currency used to unlock levels - when the equivalent of $30 US was spent; perhaps as a direct result it became one of the eShop's highest-grossing titles according to Nintendo's financial statements.