UPDATED: You can now get your Miitomo going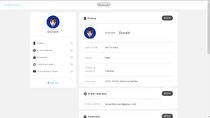 Nintendo Account registration is now open.
The new service went live just before 10pm Eastern time, and load time may be slight due to the early rush, but you can create the account at accounts.nintendo.com.
At present, the account functions are limited to establishing a nickname and linking social accounts, but there are references to "mission status" being lost if the account is closed. Other functions, such as My Nintendo and registration for Miitomo, should be live shortly.
UPDATE 6:35am Eastern: Miitomo registration can now be completed at miitomo.com. Pre-registering will earn you Platinum points for My Nintendo.