GameStop can't tell you when they'll ship that Star Fox.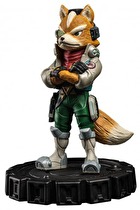 A promotional item intended to celebrate the release of Star Fox Zero appears to have been delayed.
According to our own John Rairdin, the statue was originally slated for release last Tuesday (February 9), then was pushed to Friday the 12th before the release date was removed completely. The statue is still available for preorder, but with no delivery date.
UPDATE: February 22 has now been listed as the release date.