CoroCoro Magazine has the scoop UPDATE: We now have its English name.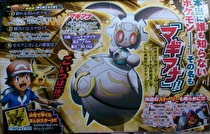 This month's CoroCoro magazine appears to feature a brand new Pokémon, the first of the seventh generation.
A trailer showing the magazine cover in Japan, obtained by Serebii, shows a silhouette of a new Pokémon named "Magiana".
In the past, the first Pokémon of a new generation was revealed more than a year before the games released, with Bonsly being playable in Pokémon XD more than a year before Diamond and Pearl came out.
UPDATE: The full image of Magiana is now available from CoroCoro.
UPDATE February 14: The Pokémon Company has revealed the new Pokémon's English name: Magearna.
A new Mythical #Pokemon has been discovered! Meet Magearna! https://t.co/sNVStrbIDG pic.twitter.com/OVBilgWpJV

— Pokémon (@Pokemon) February 15, 2016