Thankfully, this is a standalone adventure.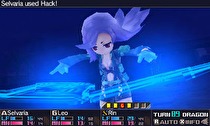 For the first time ever, a 7th Dragon title will leave Japan.
SEGA has announced the turn based dungeon crawler 7th Dragon III Code: VFD will come to North America this summer for US$39.99/C$54.99. The game features dungeon crawling in three kingdoms, dating sim elements and of all things, a cat cafe.
Did you get our hint? Get fired up as 7th Dragon III Code: VFD swoops down to North America on the 3DS! pic.twitter.com/DA3lgWUdsa

— SEGA (@SEGA) February 2, 2016
Despite the game's title, no prior knowledge of the DS or PSP predecessors is required.