The 3DS picks up the newest game from an indie favorite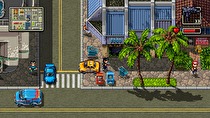 Following the success of Retro City Rampage, its sequel will hit the islands on 3DS.
vBlank Entertainment announced the game today in association with Sony as the game will first be viewable at next week's PlayStation Experience event, but vBlank has confirmed they will be targeting the 3DS with an eye for other Nintendo platforms later.. The follow up to the Wii/3DS title brings the title character back in a similar top-down perspective open world shooter.
The big differentiator in Shakedown Hawaii is that the title uses an art style more reminiscent of 16-bit titles. No release date has been given for the title.