The action RPG basically features any job you'd care to work in the world of Final Fantasy.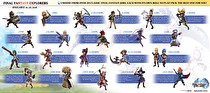 Final Fantasy Explorers, the action RPG due out on January 26, 2016 on 3DS, will feature 21 different job classes when it launches, including your regular Knight, Thief, and Mage classes, as well as Bard, Machinist, Beast Master, and more. The Blue Mage and Samurai jobs will be included with the release on January 26, 2016 after appearing as DLC in the Japanese version.
Check out the full list of classes below:
Knight
Thief
Dark Knight
Ranger
Bard
Samurai
Ninja
Paladin
Monk
Dragoon
Sage
Machinist
Red Mage
Alchemist
Beast Master
Freelancer
Geomancer
Time Mage
White Mage
Black Mage
Blue Mage
As we found out during last week's Nintendo Direct, Explorers is coming out in both a plain version and a Collector's Edition available on the Square Enix Online Store that includes a music sampler, an art book, extra quests, and more.
Final Fantasy Explorers is due out in North America on January 26, 2016.