And the key art is really creepy.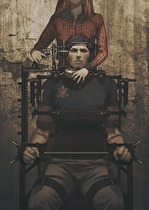 Aksys has revealed the name for the third Zero Escape title.
The 2016 visual novel/puzzle game will release in North America and Europe next summer as Zero Time Dilemma. The announcement poses a question about "How much of your humanity will you sacrifice to earn your freedom".
Aksys would later confirm that the title will release around the same time in Europe as an eShop / PlayStation Network exclusive.