An obstacle to international indie game releases is about to fall.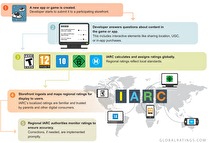 Nintendo will be the first console manufacturer to adopt an international standard for game content rating that should allow independent developers to release games worldwide fast.
The IARC rating system will be added to the eShop submission progress and will provide a questionnaire for the developer to fill out. The resulting rating will assign ratings for the ESRB (North America), PEGI (Europe), USK (Germany) and Autralian Classification Board among others, with the boards free to make changes if necessary. Independent developers have already begun to use the service, as announced by RCMADIAX.
Curently, the IARC system is in place for the Google Play app store and the Firefox Marketplace, and other consoles are expected to come on board shortly. Japan's CERO ratings board is looking to join the service, but Nintendo's requirement of a Japanese publisher for local support would remain.