Also news of Japan's most unusual Splatfest yet.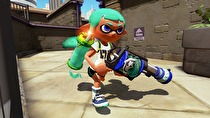 After taking a week off for the 2.2 update, the regular Splatoon weapon drops have resumed, and you'll have a full day to test the equipment before the Hallowe'en Splatfest.
The new weapons are the Luna Blaster Neo (Splat Bomb sub, Bomb Rush special) and the H-3 Nozzlenose D (Point Sensor sub, Inkzooka special). Both weapons became available tonight at 10pm Eastern, to allow a day of practice before the Splatfest.
Japan's next Splatfest has also been confirmed as a unique battle: this weekend, the duel will be between Love (Callie) and Money (Marie).