That's a lot of people staying fresh.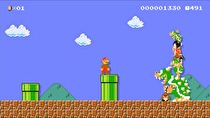 Nintendo has released their second quarter financial results for this fiscal year, and it's another profitable quarter for the company.
For the 2nd quarter (July 1 - September 30) Nintendo had net sales of 113.959 billion yen (approx. $947m US: all conversions at current market rates via xe.com), with an operating profit of 7.828 bn yen ($65m US) and net profit for the quarter of 3.182 bn yen ($26.4m US). Sales estimates for the year have not been revised, but profit estimates for the year has been adjusted upward slightly.
Hardware and Software Performers
The 3DS family sold 2.28 million units in the quarter with software sales of 19.2m, while the Wii U moved 1.19 million units with 12.37 million pieces of software, bringing the systems to 54.3 million for 3DS and 10.73 million for Wii U. Amiibo figure sales life to date are 21 million, or 10.6 million since April 1, and Nintendo reported "robust sales" for the Amiibo card line that began this past quarter.
On the 3DS, Animal Crossing Happy Home Designer sold through 2.02 million copies in the quarter, while Super Mario Maker sold through 1.88m copies in 19 days including bundles. Splatoon's worldwide sales are now at 2.42 million, a roughly 1 in 4 attach rate for the title. The million+ sales of Youkai Watch Busters in Japan were also acknowledged. Mario Kart 8 is now at 5.87 million copies, meaning it will past Super Circuit in sales shortly and has a nearly 55% attach rate. Download sales in this fiscal year so far were 21 billion yen (US$174.5m), nearly double the same timeframe last year.
Other News
Nintendo CEO Tatsumi Kimishima indicated that details about the first mobile game of the DeNA partnership would come later today in North America/tomorrow in Japan at a shareholder's meeting, as was expected. Whether this will include the loyalty system is unknown.
The release calendar shows Hyrule Warriors Legends as a Q1 title for North America and Europe, while Mario and Luigi Paper Jam is a "Spring 2016" title for North America. The rest of the 1st party lineup for the 3DS (Fire Emblem Fates, Bravely Second, Metroid Prime Federation Force, Mario and Sonic) lists as 2016 for both territories. Star Fox Zero is listed for "Q1 2016", while Pokkén Tournament is a "Spring 2016" release, and Zelda Wii U is still listing TBD as no release window update has been given.