North American and European gamers can now play on Android and iOS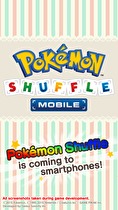 Pokémon Shuffle Mobile, the port of the free-to-start 3DS game, is now available on Android and iOS platforms. The title first appeared on Japanese stores on August 24th and North American and European stores on September 1st. The game is almost identical to the 3DS version with minor tweaks to the game's currency.
Pokémon Shuffle Mobile is a match-three game in which players join together three or more identical Pokémon characters in order to weaken and capture a wild Pokémon. In-App Purchases unlock power-ups and extra plays.
Pokémon Shuffle Mobile is being sold by The Pokémon Company and is not Nintendo's upcoming first mobile game. The Pokémon Company has previously released mobile apps including Camp Pokémon, Pokémon TCG Online, and a Pokédex app.