Though we don't know where it's going. UPDATED: More details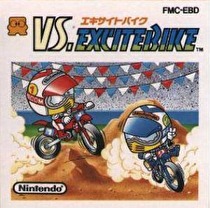 UPDATE: Nintendo has confirmed to us that the game is the Famicom Disc System version, including the track editor, additional tracks/music and 2 player multiplayer. The release will happen once the challenges in "Builders Week" are completed, the first of which is to tip in Maro vs Donkey Kong: Tipping Stars. Original story follows.
Nintendo appears to be releasing an old Famicom Disk System title this week, but have not indicated which platform will get it.
A tweet promoting "Builders Week" on the Nintendo of America Twitter announced the release this week:
It's Builders Week! Complete challenges and play great eShop games – all leading up to the release of VS. Excitebike! pic.twitter.com/plQrMdLow4

— Nintendo of America (@NintendoAmerica) August 24, 2015
Vs Excitebike released on the Famicom Disk System in Japan in 1988 and features new music, saving of custom tracks and a 2 player mode with adjustable lap options.