Both pushed back to fix bugs.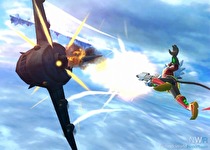 A couple of Wii U titles and a 3DS game have been delayed in order to resolve nagging issues.
Freedom Planet, which was originally slated to come out this week, has been delayed to resolve an issue that caused system hard locks on retail Wii Us. GalaxyTrail is hoping for a quick patch before a new release date is announced, though the forum post lists August 20.
In other delay news, the Wii U and 3DS versions of Rodea: The Sky Soldier have moved from October 13 (NA)/16 (Europe) to November 10/13. NIS America cited "ongoing technical difficulties" in announcing the new release date. The delay also opens up the week of October 9 - 16, in which the two versions of Rodea were slated to release around Chibi-Robo Zip Lash and its exclusive Amiibo, Atlus's Legend of Legacy and the North American release of Yoshi's Woolly World.