The oddest crossover since Archie met KISS.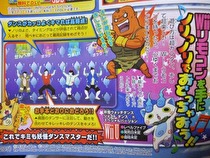 The latest issue of CoroCoro magazine has announced Level 5's first Wii U title and the newest game in the ungodly popular Yokai Watch series for Japan in association with Ubisoft.
Yokai Watch Dance: Just Dance Special Edition features the characters dancing to the music from Yokai Watch. No pricing or release date has been announced for the title in Japan, and its odds of localization are infinitesimal at best.
As previous Youkai Watch games have all been million sellers in Japan - the most recent, a spinoff called Youkai Watch Busters, has already cleared a million according to MediaCreate numbers in just under a month - the best selling 3rd party Wii U game in Japan is Capcom's Monster Hunter 3 Ultimate at approximately 225k sales.