Someone needs to hit the hug button, and you may get another chance.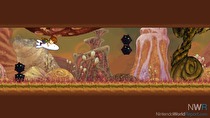 Majesco has completed a major reorganization and announced a sequel to one of their beloved franchises.
The company, which has battled stock delisting for several years, recently replaced their CEO and has reduced to five full-time employees. Other company ventures have been shuttered as the company focuses on smaller digital titles. Most notably, Midnight City, the indie publisher who handled Costume Quest 2 and High Strangeness for Wii U and were slated to publish Fullbright Games's 2013 indie smash Gone Home, has been shuttered.
A letter to shareholders has indicated the first two titles to launch from the new Majesco would be a game called "Glue" and the next game in the A Boy and his Blob series. The titles are expected to launch within the next two fiscal quarters (six months) for "all next generation gaming consoles and in some cases, PC".